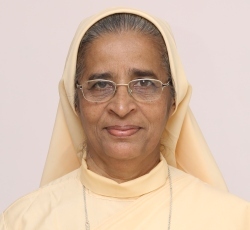 Sr. Jacintha SKD
Correspondent
                 It is my privilege to write a short message for the website of St Mary's Convent Matric Hr. Sec School. We live in a world of amazingly fast, instant, and high-speed exchange of information and knowledge. We can also make use of the technological advantages for the development of our school, staff, and students.
                 I take this opportunity to congratulate our principal staff, students, and parents for their strong sense of commitment and service that has transformed this institution into an outstanding and significant temple of learning today. The specialty of this institution is that it has made quality education accessible to all.
                Thanks to the Almighty God and Mother Mary our patroness for the immeasurable grace and infinite love that has always lead this institution from the time of its inception since 1996.
                At this juncture, I would like to remember with gratitude our founder Arch Bishop emeritus Mar. Jacob Thoom Kuzhy and the valiant pioneers like Sr. Sophia and Sr. Marly followed the founder's vision with conviction to realize his dreams.