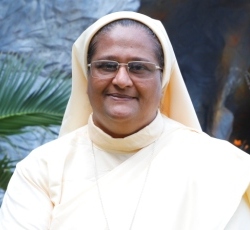 Sr. Sheeja Rose SKD
Principal
         With profound gladness and paramount enthusiasm, with wishes and gratitude being a handmaid of the Lord which mandates to fulfill the plan of God, I greet everyone on this special occasion of the opening of the website of our institution which shall fortify the overall competence. St.Mary's Convent Matric Hr. Sec School is a renowned and prestigious institution in the vicinity and I feel extremely happy and privileged to be a part of this magnificent educational institution.
         I gratefully acknowledge the yeoman service of my Predecessors, Dedicated Teachers & Staff and ever supporting Parents and well-wishers of the SKD fraternity. May God be gracious to you all for your noble contribution towards the institution and nation-building. Today we are living in a fast-changing complex society, which presents before us challenges as well as opportunities.
         In this context, it all depends on every individual how one responds to the situation with the right mindset. I remember the words of Benjamin Disraeli "Nurture your mind with great thoughts, for you will never go higher than you think". Indeed, we need better education to have better thoughts, to be better human persons, to build a better society. I firmly believe that every human being endowed with various talents and skills is a precious gift of God.
         I am pleased to bring to your notice that St.Mary's Convent Matric Hr. Sec School is one of those schools which provides ample opportunities along with a value-based wholesome quality education to nurture the inner potentials of each and every child. I wish and pray that every day is a special day for every child who enters the Portal of St.Mary's Convent Matric Hr. Sec School, with a heart and mindset to grow more than yesterday.
         I remember the lines "Bloom where You are Planted", and Live with a purpose in your heart. May the prayer of St.Francis, "Make me an instrument of your Peace" be the guiding force, and may the blessings of the Almighty God be with you all for a successful academic tenure.